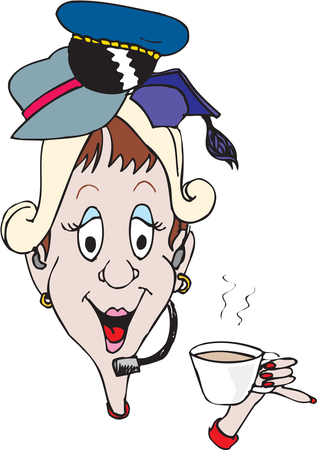 √ Dialogues: 
ABOUT MY FAMILY.
    - Now, I'd like to know about your family.
    - Oh, my family is a very large one. I have a mother, a father, grandparents, two sisters and a brother.
    - Do you all live together?
    - Yes, we do, and it's a remarkable thing that we practically never quarrel.
    - Besides your immediate relatives you must also have some uncles and aunts and some cousins.
    - Yes, several. Every now and then they come to see us at our place or we go to see them.
    - I wonder who does the cooking and looks after the house.
    - It's all in the hands of my mother. Of course, my sisters and I help her.
    - Thank you so much!
    - Come to us some time.
    - I'll come by all means. I'll be so glad to know them all.
Answer my questions:
    What kind of family has the narrator got?
    Do they quarrel?
    Who looks after the house?   
Listen and practice.
Rita: Tell me about your brother and sister, Sue.
Sue: Well, my sister is a lawyer.
Rita: Really? Does she live here in Seattle?
Sue: Yes, she does. But she's working in Washington, D.C., right now.
Her job is top secret.
Rita: Wow! And what does your brother do?
Sue: He's a painter. He's working in Argentina this month. He has an exhibition there.
Rita: What an interesting family!
Sue: What about your parents, Rita? Where do they live?
Rita: They live in Taxes.
Sue: Oh! Where in Taxes?
Rita: In Austin. It's a small city, but it's very nice.
Sue: And are they still working?
Rita: Oh, yes! My mother is teaching at the University there, and my father is an architect.
Answer my questions:
    What do Sue's brother and sister do?
    Where does Sue's sister live?
    Where is she working now?
    Where is Sue's brother working?
    Where do Sue's parents live?
    What are they?